Baby and Toddler Groups & BIG Messy Play
Over the last year the combination of arts and crafts and physical actives along with the singing, has made the Tuesday baby and toddler group a fun and friendly place for children and their parents/carers from different backgrounds and cultures to meet and socialise.
The success of this group is down to the parents who continue to bring their ideas and volunteer. Big Messy Play has grown over the last year, thanks to a great team of volunteers at the drop in.
The group meet on Tuesdays in school term 10.00am-12.00pm
St Francis Centre, 405 Cumberland St. G5 0SE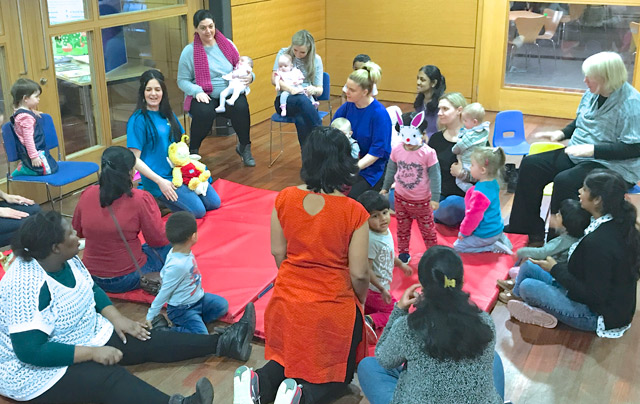 Regular fun activities
The group offer toys, games, books, songs, arts & crafts and play for the children, with tea, coffee, juice & yogurts on offer. It's the perfect chance to play with your children and meet other parents in a fun, safe and welcoming atmosphere.
A bit more about how this work evolved
In 2010 Bridging the Gap was asked by mums who previously attended Parents And Their Children's Hopes (PATCH) family group to setup a new baby and toddler group, after their group had closed down.
In collaboration with the mums we started a baby and toddler group in partnership with Gorbals Parish Church. In 2011 some mums identified a need to have another baby and toddler group on Friday afternoons. This Friday group was in operation for almost 9 years prior to the particular parent groups needs changing and having served their needs.
The success of the baby and toddler groups has been down to the parents and carers who come along. It has evolved due to the input and support of the parents and carers who have shaped how the baby and toddlers operate. Some of the parents/carers who have attended over many years have developed skills which have enabled them to pursue activities and even carers in the area of family support and learning.
One mum who came with her first child 8 years ago came back when she had her second child and during this time has led the singing session.
Another of the young mums who initially asked us to start a baby and toddlers has had 3 children who have attended over the years. During this time the mum has volunteered doing arts and crafts. Recently she has secured a job and we wish her all the best.
Main Office:
Bridging the Gap
Greyfriars Centre
270 Ballater St
Glasgow G5 0YT
Scottish Charity SC028657
Company No: SC284862

Office Opening hours: 
Monday- Thursday 9am-5pm 
Friday 9am-4pm
All content © 2020 Bridging The Gap