Baby and Toddler Groups
Our Baby and Toddler group is a fun and friendly place for children and their parents/carers from different backgrounds and cultures to meet and socialise. It combines arts and crafts with physical activities and singing.  The group meets on Tuesdays during the school term, 10am-12pm, at One Erroll Gardens, G5 0RA, please check Facebook for current details.
BIG Messy Play
A component of our BIG Thursday Drop-In, BIG Messy play offers activities and play for pre-school children. It's the perfect chance to play with your children and meet other parents, carers and community members in a fun, safe and welcoming atmosphere. Thursdays in St Francis Hall, G5 0SE, please check Facebook for current details.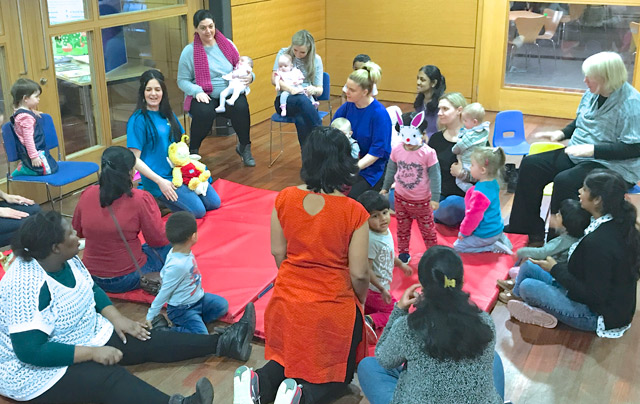 Regular fun activities
Little Bakers
A recent addition to our program, young children are invited to join with their parents and carers for a session on Zoom where they can learn to bake simple recipes in their own homes. Wednesdays 4pm-5pm, please contact the secretary for further details and to book a place.
How this work evolved
Bridging the Gap first started running pre-school activities in 2010, when we were asked by parents who had previously attended the Parents And Their Children's Hopes (PATCH) family group to set up a new baby and toddler group, as their group had closed down.
The success and variety of our various pre-school groups has been down to the parents and carers who come along to participate and share their ideas. They have all evolved due to the input and support of those who have shaped how the activities operate, and will continue to do so.
Main Office:
Bridging the Gap
Greyfriars Centre
270 Ballater St
Glasgow G5 0YT
Scottish Charity SC028657
Company No: SC284862

Office Opening hours: 
Monday- Thursday 9am-5pm 
Friday 9am-4pm
All content © 2020 Bridging The Gap